On Stream
Learning about CSS Flexboxes & Gridboxes using this tutorial – its free, but not sure I would recommend it as it is a bit confusing, the editor is picky with answers, and it has the user input code that modifies nothing. However I powered through it since I started it and have a better? understanding of flexboxes… maybe but at least learned about grid boxes.
Chat introduced us to Flexbox Froggy which we finished, only getting stuck on the final level but figured it out!
Align-content, flex wrap, flex direction
Chat solved Dandle in 4 guesses: Cross
Chat solved Dandle in 4 guesses: Swing
Chat solved Dandle in 5 guesses: Cloud
Chat solved Dandle in 3 guesses: Lumpy
Chat solved Dandle in 3 guesses: Cured
Chat solved Dandle in 4 guesses: Curvy
Gratitude Board
⭐ TheDevDad_ for the raid!
⭐ WendelScardua for the 11 months of sub!
⭐ Chuckbeasley for the 3 month sub!
---
Stats
Stream Duration: 6h30m
Average Viewership: 39
Max Viewers: 88
Live Views: 899
Unique Chatters: 65
Followers: 14
Subscriptions: 1
Bits & Tips: –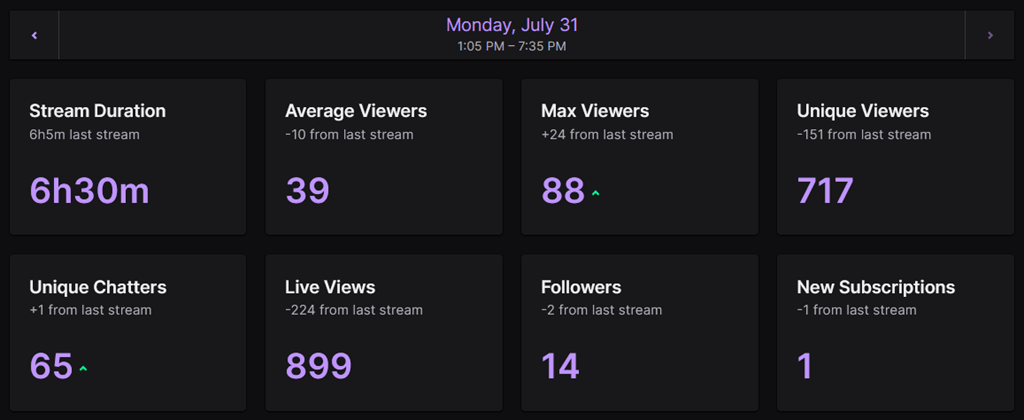 ---
Raided
Thanks to the suggestion of henrikac, we (FINALLY) sent the koimmunity over to hang out with rwxrob! He hosts a chill coworking stream for others to join alongside him as he codes.
Next Stream
Next stream will be on Tuesday, August 1, 2023 at 1PM UK.
SEE YA THEN!