On Stream
Spacey3D picked out our newest dragon egg!
The koimmunity has named one of the dragons Babbu!
Splitting up the Cache into the AttendanceStore and RaidStore
Learned about coalesce operators
Naming things is a pain >:|
Worked on the logic to run a countdown timer for the duration of the raid suggestion phase. When suggestions close, the bot selects 3 random suggestions and checks to see if the streamers are still live and return the stream information. It then posts in chat the three selected streamers with their categories and viewer counts.
I still need to implement the logic if there is not enough suggestions or if there's the slim change the stream goes offline while we wait for the suggestions to close but we worry about that later.
Outside of forgetting the disable the raid suggestions on startup and trigger it with a command, it worked flawlessly which is super exciting 😀
Stats
Stream Duration: 8h11m
Average Viewership: 55
Max Viewers: 72
Live Views: 1433
Unique Chatters: 1106
Followers: 39
Subscriptions: 16
Bits & Tips: 6.00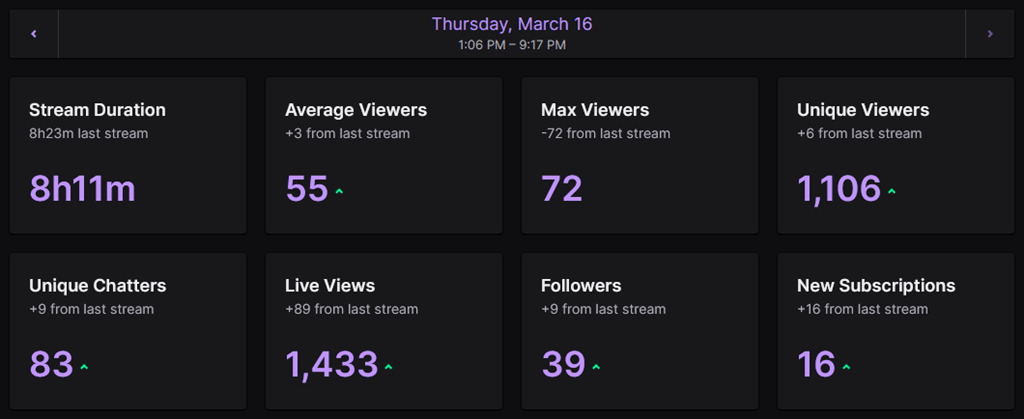 ---
Gratitude Board
Thanks FaffinABoot for the bitties!
Thanks HAMhamReborn for the ?? 0
Thanks JyroDraws for the raid!
Thanks CJGladback for the raid!
Thanks Archaic_ZA for the 10 koimmunity gifted subs 😀
Thanks Archaic_ZA & Trac3rX for information about optional arguments
Thanks Thanks Archaic_ZA for subbing for the very first time!
Thanks HonestDanGames for putting up with my stream for 60 months!
Thanks JurgenPole for the £5 tip and kind words!
Thanks Secondubly for helping in a roundabout way lol
Thanks fisbyte for suggesting streamers that tested out the sub & follower only chat modes.
---
Raided
Thanks to the suggestion of Secondubly, we sent the koimmunity over to hang out with MoodyMoomba! Shes primarily a FFXIV streamer, but currently enjoying the cute vibes of Disney Dreamlight Valley! Also take a peep at her Instagram for her cosplay work!
Next Stream
Next stream will be on Friday, March 16, 2023 at 1PM UK.
SEE YA THEN!